Closer and Closer Together
A principios del año 2019, recogí una serie de cosas de las playas rocosas, ventosas y ruidosas de Dungeness (Reino Unido) y las llevé a mi estéril espacio de trabajo en Goldsmiths, Universidad de Londres. Uno de ellos era una piedra redonda pero tosca, esculpida con diligencia por las fuerzas indiferentes del viento, la arena y el agua del mar. 9 meses después, mientras preparaba el proyecto final de mi maestría, me di cuenta de que la misma piedra no estaba allí por sí sola.

Sabía que el habitante inesperado de mi escritorio era un liquen, ya que había estado observando cómo los hongos son excelentes para vivir junto con organismos diferentes en ensambles bastante peculiares. En los líquenes, los hongos proporcionan tejido que sustenta cianobacterias o algas que, a cambio, convierten la luz solar en energía química permitiendo que ambos organismos prosperen juntos como uno, un organismo compuesto, una nueva especie. Las estrechas asociaciones de diversos organismos que conviven, como éste, dieron lugar a la palabra simbiosis (Tsing, 2012). La simbiosis no es una característica exclusiva de los líquenes, es omnipresente.

Nos hemos encontrado y nos hemos hecho parientes: El liquen está conmigo; Estoy con el liquen y estamos podido cultivar la capacidad de respuesta mutua (Haraway, 2018, p. 103). Cuando digo que esta historia la cuento yo en simbiosis con el liquen, no es un recurso retórico, es un método de pensamiento generativo que abre una miríada de posibilidades y de nuevos mundos por llegar (Haraway, 2016).

Este parentesco dio lugar a una serie de expediciones en torno a las infraestructuras de gestión de residuos del sureste de Londres, con el fin de repensar cómo nos posicionamos e interactuamos con la naturaleza. Fue una invitación a otros bichos del Sureste de Londres a formar parentesco a través de tecno-líquenes.

At the beginning of the year 2019, I collected a series of things from the rocky, windy and rattly beaches of Dungeness (UK) and brought them to my sterile workspace at Goldsmiths, University of London. One of them was a round yet coarse stone, diligently sculpted by the indifferent forces of wind, sand and seawater. 9 months later, as I was preparing the final project for my MA, I realised that the same stone was not there just by itself.

I knew that unexpected co-habitant of my desk was a lichen as I had been looking at how fungi are great at living together with dissimilar organisms in pretty quirky arrangements. In lichens, fungi provide tissue that supports cyanobacteria or algae who in return, turn sunlight into chemical energy, allowing both organisms to thrive together as one, a composite organism, a new species. The close associations of diverse organisms living together, like this one, birthed the word symbiosis (Tsing, 2012). Symbiosis is not an exclusive feature of lichens, it is ubiquitous.

We have found each other and we made kin: The lichen is with me; I'm with the lichen and we are "cultivating response-ability for each other" (Haraway, 2018, p. 103). When I say that this story is told by me in symbiosis with the lichen it is not a rhetorical device, it's a method for generative thinking that opens up a myriad of possibilities and of new worlds yet to be (Haraway, 2016).

This kinship led to a series of expeditions around waste management infrastructures of SE London, in order to rethink how we position ourselves and interface with nature. It was an invitation for others critters of SE London to make kin through proxy techno-lichens.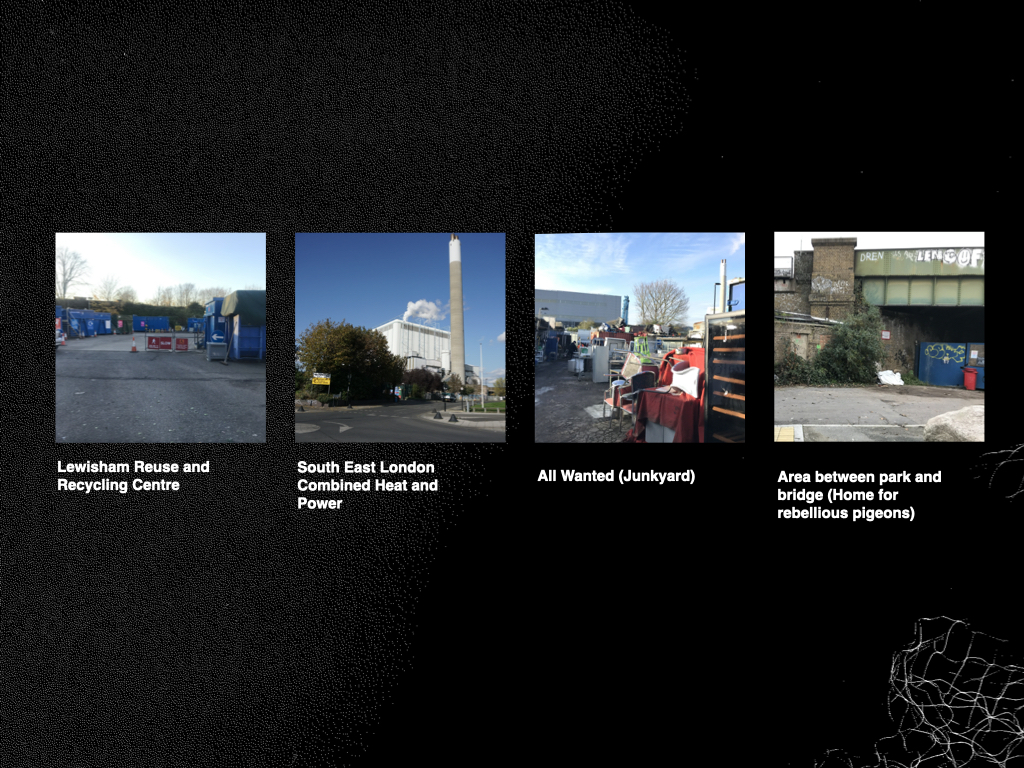 The techno-lichens were made by participants of the expedition.